AlumaCraft River Boat
June 25th 2011-August 24th, 2011
Photos by: Rick Jacquot
I spent a week in Florida with some friends in June, 2011. We spent several days diving and cruising the Santa Fe, Withlacoochee and Suwannee rivers. I had decided a long time ago that I needed my own boat for the Florida rivers. I had built my big dive boat for the Cooper River, but it was too big for Florida, I needed something smaller and I was determined to build it and get back down there this summer!
I purchased this 1957 "Duo" aluminum boat on June 25th, 2011 for $750. I bought it for the 1979 Mercury motor and 1965 trailer. The boat hull was a deep "V" hull which I couldn't use for the rivers in Florida. I needed a flat, or semi V hull to be able to navigate over the shallow areas in the rivers, especially during a drought period.
The motor is a 20 HP Mercury.
The trailer is a 1965 model.
The first thing I did was check the motor to see how it ran. It runs perfectly, but needs a new prop.
Next, I pulled the motor off the the boat and the boat off the trailer.
I put the boat out to pasture behind the barn and hung the motor on my big boat.
On June 27th, I headed to Locust, NC outside of Charlotte, to pickup a boat I had been looking at on Craig's List. It's the perfect size for what I need and the trailer and motor would fit it perfectly. I like the older aluminum boat hulls, they are heavier and tougher than the newer green Jon Boats you see everywhere.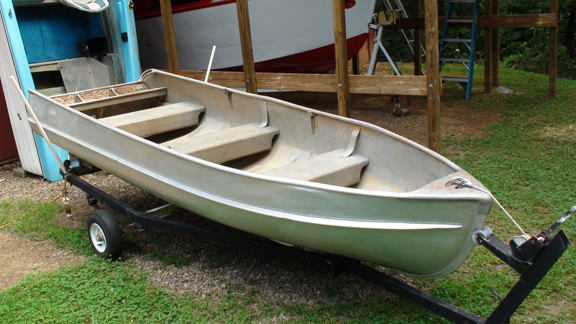 This boat had no hull id numbers and I didn't know the year. I paid $425 for it. After researching it on the Internet, it seemed to be a 1950's-1970's AlumaCraft Jon Boat. It is 13 ft. 9 in. long and 53 in. wide. I sent the paperwork to Raleigh to get new hull numbers and a registration sticker. This boat actually fits the trailer better than the one that it came with.
While working on the inside of the boat cleaning the oxidation off the aluminum, I found a model number stamped on the rear underside transom support. The number reads "FD 3122". Since AlumaCraft is still in business, I gave them a call and asked them what year it was. It turns out that the FD models were first built in 1955, this boat was built in 1956. North Carolina State has issued me new numbers and assigned a year to the boat, 1974? So I have a river boat that is a 1956, but registered as a 1974.
Overall, the boat is in great shape considering how old it is. It has a few minor dings that I will iron out.